---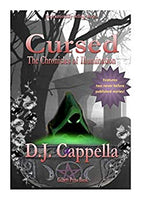 She has been around for a very long time. Her hands have touched countless witches as she moved them around the chess board, for the pleasure of the Benefactor. She is the Seer of Chicago, and no one is sure where she came from, or how she has managed to worm her way into the secret society of magic. She has been pulling back the veil that obscures that future for generations of young witches, with just the promise of a better tomorrow.

What no one knows is that that she has lost her sight, and is working with demons to ensure the Prophecy of Illumination comes to light sooner rather than when it was destined to occur. With a simple manipulation that bright light will burn with a dark fury, if only she can push these witches into place. All she has to do is break one little curse by leading these witches into a deal with one from the dark side: a demon of the cross-roads.

The Chronicles of Illumination: Cursed features two never before released stories!